Using a conventional mouse for many hours on a daily basis can take its toll on your wrist and hand.
Using the best ergonomic mouse can make a world of difference in how productive, comfortable and enjoyable your days are and also help fend off repetitive stress injuries such as tendinitis and carpal tunnel syndrome.
To help you find the right mouse for your needs, especially for programming, we've researched the best ergonomic mice currently on the market and reviewed the top options below.
Disclosure: This article includes affiliate links that may provide a commission to me at no cost to you if you make a purchase through them.
What is the Best Ergonomic Mouse?
Below are our top picks for the best ergonomic mouse (including for programmers):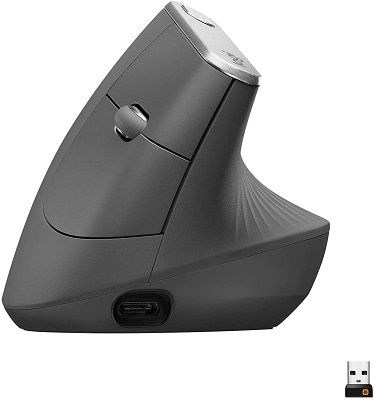 Overview
If you're set on investing in the most comfortable vertical mouse, the Logitech MX Vertical wireless mouse is hands down the best option to consider.
It's designed in such a way that your hand rests in a natural position, similar to the way you extend it when shaking a person's hands.
With your hand in this posture, your hand muscles are more relaxed and you will find that you don't get too tired even when clicking and scrolling for hours upon hours.
Key Features
Vertical form factor
Wireless connectivity
Rechargeable battery
Pros
High-precision sensor reduces fatigue
Powered by a quick charging battery
Button adjustment for DPI speed and accuracy
Rubber grip has a non-slip texture
Angle is perfect for ergonomic comfort
Can be used across three computers
You can plug it on and use as a wired mouse
Cons
A bit bulky and not ideal for users with small hands
Though it comes with a dongle, there's no place to stow it
Pricing
At just under $100 this mouse is worth the money – it's not the cheapest and also not the most expensive either.
Bottom Line
The performance of the Logitech MX Vertical Mouse is top-notch. It has a 4000 DPI sensor that lets you get things done quicker and with less fatigue. The buttons have a satisfying click action, the scroll wheel is great to use, and the tracking is smooth and accurate.
In addition, the mouse employs a 57-degree angle helping reduce wrist and forearm strain. If you are looking to keep repetitive stress injuries such as carpal tunnel syndrome (CTS) at bay, this is the mouse for you.
Overview
The Microsoft Sculpt Ergonomic Mouse is one of the most comfortable mice you can ever lay your hands on.
The way the mouse is sculpted and the way the buttons are placed promotes a more comfortable posture for the hand, the forearm, and the wrist.
The design also makes navigation effortless and the tracking performance is top rated. Overall, one of the best ergonomic mice when it comes to comfort.
Key Features
Type: Horizontal
Connectivity: Wired
Pros
Truly ergonomic design that prevents pain
Great tracking and navigation
Fits well in large hands
Windows key for easy access to the start menu
Cons
Too bad that the Sculpt has some quality control issues. For example, the left button tends to lose responsiveness with time.
Pricing
Bottom Line
The Microsoft Sculpt Ergonomic Mouse is the best horizontal mouse we recommend.
Overview
The Logitech MX Ergo wireless trackball mouse not only has a fantastic ergonomic design that places your hand in a more comfortable position. It goes a step farther and allows you to choose between a 0 and 20 degree angle.
This means that you can use the mouse lying flat and then switch to an upright position. This is great for improving wrist posture and cutting down on muscular strain.
Another great thing about the Ergo is that the scroll wheel is also capable of left and right scrolling. The trackball itself is smooth and accurate.
For first-time users, a precision mode button near the ball allows you to easily adjust the cursor speed and sensitivity depending on whether you want faster or precise control.
Pros
A Bluetooth trackball mouse
Scroll wheel supports 4-direction scrolling
Comfortable rubber grip and non-slip base
You can fine-tune the cursor speed
Easy switching between two computers
Space efficient as mouse remains stationary
Cons
A trackball ball presents a learning curve if you've never used this kind of mouse before
No spot to store the unifying dangle
Pricing
Bottom Line
The Logitech MX Ergo is the best Track Ball mouse we recommend.
Summary
If you suffer from RSI conditions such as carpal tunnel syndrome and are looking for a mouse that will alleviate the pain, the 3M Joystick Mouse is your best bet.
The vertical design keeps your arm and hand at a natural angle, which helps ease the pain of repetitive stress injuries. You hold the stick and move the mouse around just like you do a regular mouse.
The optical mouse itself is fast and responsive. The rocker at the top has left and right buttons that you operate with your thumb while a third button on the side offers a way to scroll.
Key Features
Type: Joystick
Connectivity: Wireless
Pros
Vertical design is best for hand injuries
Helps alleviate pain and existing conditions
Comfortable soft-touch rubber surface
Small and large size, wired and wireless versions
Backed by a two year warranty
Cons
Joystick mouse takes some getting used to
Not quite as precise as a regular mouse when
Lacks a regular scroll wheel and back/forward browser buttons
Only for right handed users
Pricing
Bottom Line
If you are in to joysticks, this is the one, responsive joystick mouse to get.
Overview
Thanks to the unique ergonomic shape, the Evoluent VM4R Vertical Mouse 4 is the best ergonomic mouse for people with hand injuries such as carpal tunnel syndrome and tendinitis.
It keeps the wrist in a natural posture eliminating forearm twisting and finger contortions and leaving you with a comfortable and pain-free mousing experience. Additionally, the buttons are easy to access and the pinky finger is supported.
The mouse function is good. It allows you to adjust the sensitivity on the fly and gives you endless possibilities for programming all the buttons.
Key Features
Type: Vertical
Connectivity: Wired
Pros
Medical mouse approved by physical therapists
Plug-n-play easy of use, no adapting required
Extra low, low, medium, and high speed settings
Allows you to program the buttons
Light indicator for speed/sensitivity
Cushions the little finger
Buttons are easy to click
Cons
The revolutionary design takes some time to get used to
The mouse is quite pricy but worth it for pain relief
Pricing
Bottom Line
If you're worried about Carpel Tunnel and avoiding that pain, Evoluent VM4R Mouse 4 is the way to go.
Overview
Designed to maximize efficiency and boost productivity, the Logitech MX Master 3 Advanced mouse is the best ergonomic mouse for programmers, designers, and other professionals.
Whether you spend your day writing and editing code, scrolling through spreadsheets, or designing with software, the MX Master 3 can help you get more done while being easy on your hand and wrist.
It features an electromagnetic scroll wheel for ultra-fast scrolling, app-specific workflow customizations, an ergonomically sculpted shape, and intuitively placed buttons.
Key Features
Type: Vertical
Connectivity: Wireless
Pros
Helps reduce hand and wrist strain.
Works on pretty much all surfaces including glass
Use seamlessly with up to three devices
5 programmable buttons cut down on wrist movement
Smooth, speedy, and quiet scrolling
High 4000 DPI setting for CAD and gaming
Productivity boosting customization options
Cons
Some users complain of Bluetooth connection issues
Pricing
Bottom Line
Since you're a coder or looking to be one, this is the ergonomic mouse for you! 🙂
Overview
The ZLOT Vertical Ergonomic Gaming Mouse is optimized for gaming comfort and performance.
With the ergonomic design, your hand will feel much better after a long gaming session saving the world. It's effective at alleviating the pressure caused by a regular mouse allowing you to enjoy gaming without worrying about RSI.
Ergonomics aside, this is an awesome gaming mouse even for fast-paced games that require the ultimate precision. It comes with high-performance DPI settings ranging from 1500 to 10000. Other gaming mouse necessities include 11 keys (6 buttons + one joystick) and RGB lighting.
Key Features
Type: Vertical
Connectivity: Wired
Pros
Five high speed DPI settings
Tracks great on a range of surfaces
11 programmable buttons
RGB lighting for setting the mood
Rubbery smooth grip and a pleasure to use
Has macro programming functions
Smooth scroll wheel and easy to click buttons
Cons
The unconventional design in a gaming mouse might be a stumbling block in the beginning
Pricing
Bottom Line
If you're a serious gamer or like to play long hours, the ZLOT Vertical Ergonomic Gaming Mouse is for you.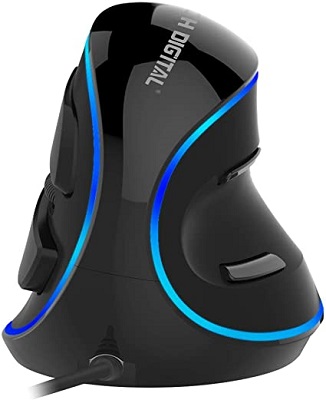 Overview
The J-Tech Digital Scroll Endurance has a vertical design but also feels like a joystick mouse when used with the removable palm rest it comes with. This makes it more of a hybrid mouse. It's also one of the easiest to use mice.
The forward and back buttons are placed by the thumb rest which makes them easy to use when surfing the net. The DPI settings are 800, 1200, and 1600 and you can change them on the fly via a button.
This is still not where the adaptability of the J-Tech Scroll Endurance ends though. You can also program the buttons and turn the LED light on and off. Lastly, the sleek look is sure to add style to your desk.
Key Features
Type: Vertical
Connectivity: Wired  
Pros
Comes with a detachable palm rest
Feels like a joystick mouse when used with the palm rest
The buttons are positioned for easy access
Allows you to adjust sensitivity via a button
You can personalize the buttons and turn the blue LED light on or off
Backed by excellent customer service
Cons
The hybrid mouse is bulky and has a bit of a learning curve
Pricing
Bottom Line
A sleek looking mouse and acts like a joystick, is sure to be a fun experience.
Overview
The contour of the Kensington Ergonomic mouse does wonders at relieving stress off the fingers, wrist, and shoulders. It even has a shelf to support your pinkie so only the tip moves instead of the entire finger.
There's no setup required to use it. Simply plug and play. It has 800, 1200, 1600, 2000, 2400 and a left and right click, forward & back buttons.
As for functionality, the mouse is very responsive and allows you to adjust the DPI at the click of a button.
Key Features
Type: Vertical
Connectivity: Wireless
Pros
Angled slope for ergonomic comfort
Offers support for the little finger
Plug-and-play operation, no software or driver setup
Great for even small hands
Very sleek and stylish appearance
Has storage space for the USB
Cons
Does not have a silicone grip
Pricing
Bottom Line
Relieving stress off the fingers, wrist, and shoulders is a great choice. However this mouse is a little on the small side and bigger hands may prefer a larger computer mouse.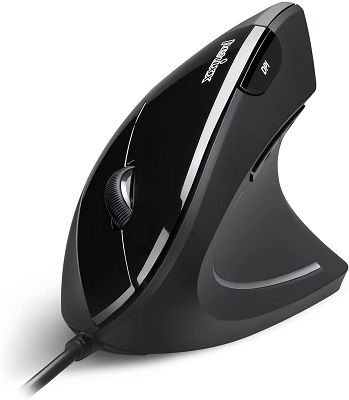 Overview
The Perixx Perimice-513 combines an ergonomic handshake grip and thumb rest with easy-access buttons. It's one of the best mice for preventing mouse arm and tennis elbow.
The vertical design will keep your wrist and hands in a natural posture and won't force them to twist. Your forearm muscles stay relaxed, and all five fingers are supported.
The scroll wheel works very well and the mouse has three DPI settings and six navigation buttons. The rubber surface feels good in the hand and the sleek design is a conversation sparker.
Pros
6 buttons minimize movement and strain
Provides support for all the fingers
Designed to fit the contours of your palm
Great mouse at a low price point
No setting up, just plug in and use
Big enough for medium and large hands
Blue LED Light is subtle, not distracting
Cons
Clicks are accompanied by a strong noise
Pricing
Bottom Line
If you're worried about mouse arm or tennis elbow, this Perixx Perimice-513 mouse is your best bet.
What is an Ergonomic Mouse?
An ergonomic mouse is designed specifically to fit the human hand (and body). The goal is to help avoid pain and increase comfort during use, especially when used for many hours at a time. Additionally an ergonomic mouse allows to keep your hands, wrists, elbows, and arms in a natural position.
Is An Ergonomic Mouse Worth It?
For avid computer users or anyone with hand injuries, an ergonomic mouse is absolutely worth it.
Ergonomic mice are designed to promote a more natural posture for your hand and wrist and reduce twisting of the forearm. This reduces the strain on muscles, joints, nerves, and tendons.
Thanks to this, ergonomic mice are effective at alleviating pain and repetitive stress injuries such as nerve damage, tendinitis, and carpal tunnel syndrome.
These problems can arise with the extended use of regular mice, as they tend to pronate the forearm and wrist and apply pressure on the carpal tunnel area.
If you use a mouse on a daily basis, an ergonomic mouse is a worthy investment.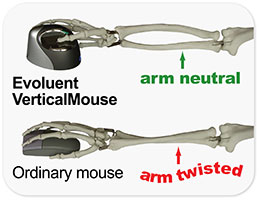 How To Choose the Best Ergonomic Mouse for Your Needs
When buying an ergonomic mouse, paying attention to the following features and specs will help you make the right choice.
Design and Angling: It goes without saying that an ergonomic mouse should be designed with comfort in mind. The sculpting and the angling should encourage a proper posture for your hand and wrist.
Precision: Ergonomics isn't just about comfort, but also efficiency. The most comfortable mouse would be of no use if it didn't track smoothly and deliver the required precision. Look for a mouse that comes with adjustable DPI settings, allowing you to fine-tune the sensitivity. For gaming, an ultra-high DPI setting is ideal as it offers lightning-fast responsiveness.
Buttons: Standard mice have left and right click buttons. When it comes to ergonomic mice, extra buttons you can program to execute shortcuts are ideal to reduce wrist movements. Most ergonomic mice have at least five buttons. The buttons should be positioned in such a way as to be easy to reach and press.
Compatibility with Surfaces: Make sure the mouse will glide and track well on the kind of surfaces you intend to use it on. The most versatile choice here is a trackball mouse as it can work on all kinds of surfaces.
Size: The best ergonomic mouse for small hands won't suit large hands and vice versa. Pay attention to how high, how wide, and how long the mouse is. This will help you choose a mouse that suits the size and contours of your hand.
Which Type of Ergonomic Mice Should I Choose?
There are five different types of ergonomic mice to choose from:
Horizontal Ergonomic Mouse: This resembles the standard mice but has a contoured shape for comfort. Because we're already familiar with the design, this is the best ergonomic mouse for productivity.
Vertical Ergonomic Mouse: This has a slanted design that places the hand in a handshake position, which reduces twisting and helps relieve pressure on the wrist where the transverse carpal ligaments run. If your wrist aches after using a regular mouse, a vertical mouse might be exactly what the doctor ordered. It will take some time to get used to it though.
Ergonomic Trackball Mouse: This kind of mouse has a ball that you roll in order to control the cursor. It minimizes wrist and arm movement and is effective at keeping carpal tunnel and other type of complications at bay. However, the learning curve is steep here especially with copy pasting and drag and dropping.
Ergonomic Joystick Mouse: A joystick mouse has a vertical design that puts pronation of the wrist out of the equation. This makes it the best ergonomic mouse for relieving existing carpal tunnel syndrome, arthritis, tendinitis, or other wrist issues. The comfort does come at the expense of maneuverability and precision though.
Ergonomic Pen Mouse: Like the name suggests, you hold this type of mouse like a pen. It entails minimal movement of the wrist, which makes it a viable choice for people with wrist injuries such as CTS.
That's a Wrap
While it can take some trial and error to find the perfect ergonomic mouse for you, the best ergonomic mice reviewed below are top-rated by thousands of users.
Be sure to evaluate the design, size, precision, and features so you can find the best ergonomic mouse for you and say goodbye to wrist pain and RSI.
Mike is the creator of Go With Code and a coder at heart 🙂