Microsoft just announced today the release of Windows 11 happening later this year around the holiday season.
And apparently you can upgrade for free if you already have Windows 10 installed on your PC.
The major enhancements I've seen so far:
A new start menu, centered by default but can be changed to the left
Native Teams integration. Meaning teams comes installed and ready to use. Uh oh, I wonder how Slack feels about that?
A re-built Windows App Store
Able to run Android apps in Windows 11. You'll need an Amazon account setup within the Windows store to get this working. Will running android apps in windows be something people actually want?
A layout "picker" so you can quickly layout multiple windows and I think this may be nice
Your PC will "remember" the layout of apps and windows when you move from one screen to another and back again without having to re-arrange those windows. This should be pretty cool 🙂
The Microsoft reveal video
Another take on the Windows 11 reveal
And I have to say Marques Brownlee hit the nail on the head about the different versions of Windows being great or just sucking. Here you go: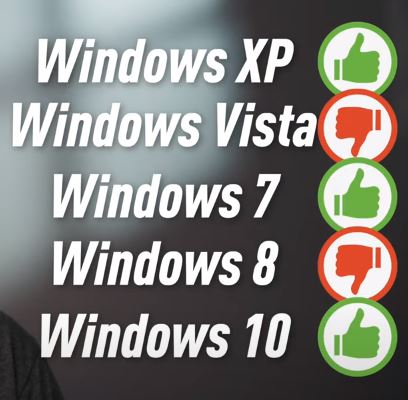 Windows XP was great.
Windows Vista, not so much (was really bad).
Windows 7, great.
Windows 8, nope and it kind of sucked.
Windows 10, yes it is great.
Why a new major Windows version?
Satya Nadella, Microsoft's CEO, during the company's online event said this: "Operating systems and devices should mold to our needs, not the other way around. That's why we're making it easy to connect with the people you want, the content you want, the apps you want, across all devices you want."
Ok, I suppose that makes sense.
And do we really need a new major version? I thought Windows 10 was the version to end all Windows versions and all future versions would fall under 10. I guess not.
If you want to ram teams down everyone's throat, then yes let's do a new Windows version!
Oh wait, possibly that's it. Position teams as the ONLY collaboration tool for everyone.
Will Windows 11 suck or will be great?
Time will tell. As long as it makes life easier for coders then I'm probably OK with it.
And actually teams isn't all that bad. I use it almost every day. But let's see what happens with Windows and the regulatory scrutiny and the antitrust spotlight. Should be interesting.
Mike is the creator of Go With Code and a coder at heart 🙂