Are you considering Team Treehouse for coding education but wondering how good the platform is and whether it can help you achieve your goals? In this Team Treehouse review, find out everything you need to know to decide whether this is the right learning platform for you. From the courses they offer, the user experience, their pros and cons, what former students have to say, and how the site compares to alternatives.
When looking for a coding platform to learn programming from, reliability is the most important thing to consider. This is where Team Treehouse shines. Their coding courses are designed and taught by experts. This has made Treehouse a popular platform for absolute beginners in tech.
However, there are a lot more factors to consider in order to determine whether this is the right online coding school for you. Before you take the plunge and subscribe to their courses, it's smart to do your research and find out whether Team Treehouse can deliver what you're looking for. This is exactly what you will find out in this review.
Disclosure: This article includes affiliate links that may provide a commission to me at no cost to you if you make a purchase through them.
What is Team Treehouse?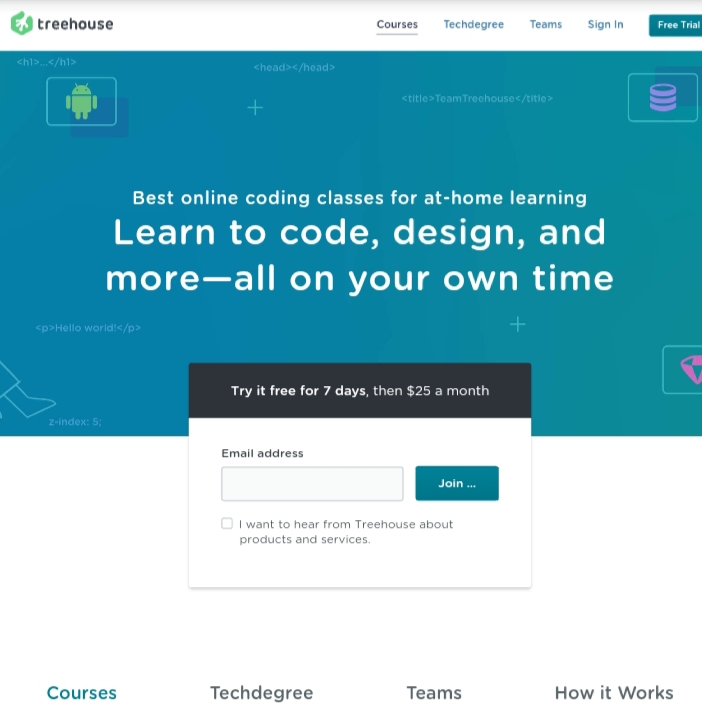 Team Treehouse is an online technology school designed to make professional tech education accessible. It aims to transform beginners from zero tech skills to ready for an entry level job in programming or design.
The platform was founded by Ryan and Gillian Carson in 2011 in Orlando, Florida and is now based in Portland, Oregon. Treehouse has a team of in-house instructors who are experts in the fields they teach.
Pros of Team Treehouse
Designed with tech beginners in mind thus easy to follow and does not presume prior tech skills.
Their course portfolio is incredibly diverse. Whether you're looking to learn web design and development, mobile development, or acquire business skills, they've a course for you.
Courses are designed and instructed by experts in their fields. This ensures the quality of training is top-notch.
Treehouse takes a project-based approach, which will equip you with the practical skills you need to create real products like websites, web apps, and mobile apps.
They go beyond equipping you with technical skills. They also give advice to help you start a business successfully or launch a coding career.
They have a self-paced approach so you can opt to learn full-time or an hour a day as your schedule allows.
Offers a 7 day trial you can take advantage of to see if their courses are right for you
Cons of Team Treehouse
Their courses are mainly video based, which makes it limiting for those who prefer to learn in an interactive way or by reading.
You don't get lifetime access to the course materials.
Courses do not have ratings and reviews by former students.
Does not offer certificates for the courses and skill tracks. Only for the Techdegree programs.
In-depth Review of Team Treehouse
Does Team Treehouse sound like the kind of coding platform you're looking for so far? Keep reading to learn more on what to expect. If not, scroll down to see some alternatives you can consider.
Team Treehouse Courses: What Topics are Covered?
As we mentioned above, Team Treehouse has a very diverse portfolio of courses. It offers more than 300 tech and tech-related courses. They cover the following programming topics:
HTML and CSS
JavaScript
Ruby
Python
Java
C#
Go
PHP
WordPress
APIs
iOS and Android Development
Data Analysis
Databases
Computer Science
But Team Treehouse is not limited to technical courses only. They also offer training in design, business, security, and quality analysis.
The platform also offers some unique courses designed to address emerging issues and to equip students to thrive in the modern world.
For example, they have courses on digital literacy, Equity, Diversity, and Inclusion (EDI), and how to overcome imposter syndrome.
Treehouse Learning Programs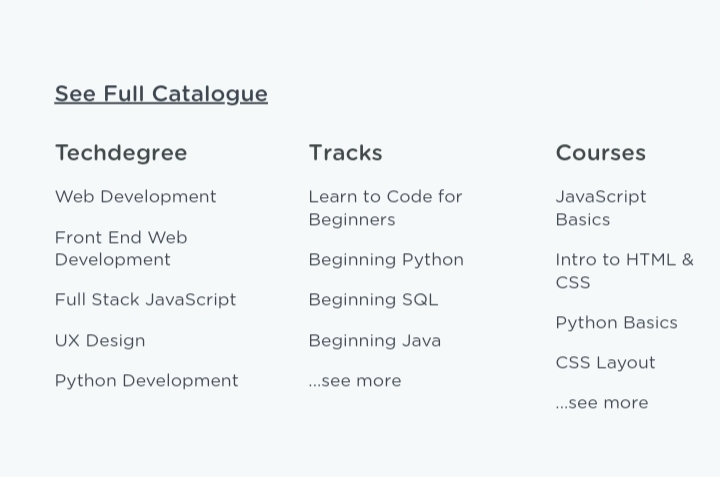 Treehouse offers four learning programs. You can take individual courses, follow a skills track, or enroll in their bootcamp style Techdegree program. They also offer curated courses for teams.
Skill Tracks are comprised of a series of curated courses designed to teach a specific programming language or discipline. There are over 40 skill paths, Beginning Python being one of the most popular.
Techdegrees are intensive bootcamp style programs designed to give you a full education so you can get an entry level job in your field of choice. Currently, Treehouse offers the following TechDegrees:
Front End Web Development
Full Stack JavaScript
PHP Development
UX Design
Python Development
Treehouse for Teams: Treehouse also designs custom training courses for teams. This service is geared towards institutions such as schools and organizations.
How Much Does Team Treehouse Cost?
Team Treehouse is offered on a monthly subscription mode. Currently, Treehouse has three membership plans:
Basic Courses Plan: For $25 per month, this gives you access to the entire library of courses including the videos, quizzes, challenges, and learning paths as well as the community forum
Courses Plus: Costs $49 per month and includes everything offered in courses plus access to workshops, interviews, and lectures by industry leaders. You can also download the videos for offline use.
Program

: A full curriculum in a chosen area for $199 per month. Also includes all the perks of the basic and pro plans plus custom feedback on your code, real-time support, and access to the Techdegree community on Slack.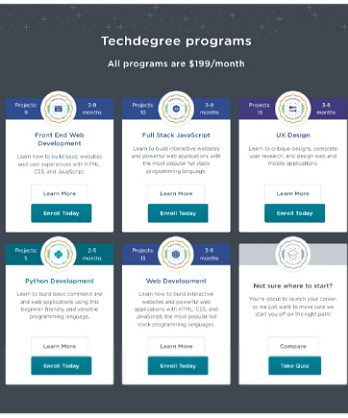 Treehouse Features
Visual Approach: Treehouse has a visual approach to teaching code. All the courses are video based and have accompanying captions in English. Transcripts are also available if you prefer reading to watching and for review later.
Interactive Quizzes and Challenges: After watching a video, you get to tackle challenges and take a quiz. This helps you test your understanding of every topic and also helps commit the concepts to memory.
Integrated Code Editor: You get to type and run code without having to switch to and from an editor to the learning portal. All the code in the courses is saved in a zip file so you can access it later.
Practical Projects: You will get hands-on practice by building projects such as websites and apps. This means you will have some portfolio projects to showcase to potential clients and employers.
Points System: You earn points and badges for the courses you complete. Seeing the points climb provides motivation to keep learning. Potential employers or clients can see these badges too.
Leaderboard: Daily, weekly, monthly, and all time leaderboards. Seeing your name featured feels great and fuels you to keep giving it you best.
The User Experience
The Treehouse website is nicely laid out so it's easy to find what you're looking for. You can register for the free trial right away or first browse the available courses listed at the bottom of the homepage with a link to the complete courses library.
To get started, you can click on the Free Trial button on the top right corner or enter your email address and click join now.
You will be prompted to select which Treehouse plan you want to join, enter your basic information, (Name, Surname, Email and Password), provide your payment details (you won't be charged until the 7 day trial is over) and complete the sign up by clicking join Treehouse. This will give you full access to everything offered in your plan of choice.
In the library, you can sort courses by topic or category, by difficulty, alphabetically, or by newest or oldest. For example, choosing Python will display all the courses on the language. Each course has a short description and a trailer to give you a preview of what you can expect from the course.
If you're not sure what course to take, you can take a "what programming language to learn quiz" right on the home page. All you have to do is answer a few questions to get a recommendation of the courses to take based on your answers.
How is the Quality of their Courses?
The greatest thing about Team Treehouse is that the courses are offered by expert instructors who're also teaching professionals.
They are not only very knowledgeable about the topics they teach but also know how to engage students and teach effectively. Each course begins with the basics and each module builds on the previous one making the concepts easy to grasp.
The videos themselves are professional level quality from the resolution to the sound quality. Treehouse is also committed to improving the experience for students. For example, they take into account student feedback when deciding on the content and features to add to the platform. They also update their courses to keep up to date with what's current.
The only downside here is that Team Treehouse doesn't have a user rating system. This means that you won't have students reviews to guide you when selecting courses.
Does Team Treehouse Work?
Treehouse promises to take your from a newbie in tech to a knowledgeable and skilled programmer capable of developing products, starting a business, or launching a career in tech.
The courses, skills paths, and Techdegree programs are curated to teach the skills required for the most in-demand careers in tech.
People have been able to launch new careers or start businesses after completing the courses and skill paths. Graduates of the Techdegree program have landed entry level jobs at companies like Adobe, Airbnb, and Nike.
Team Treehouse Student Feedback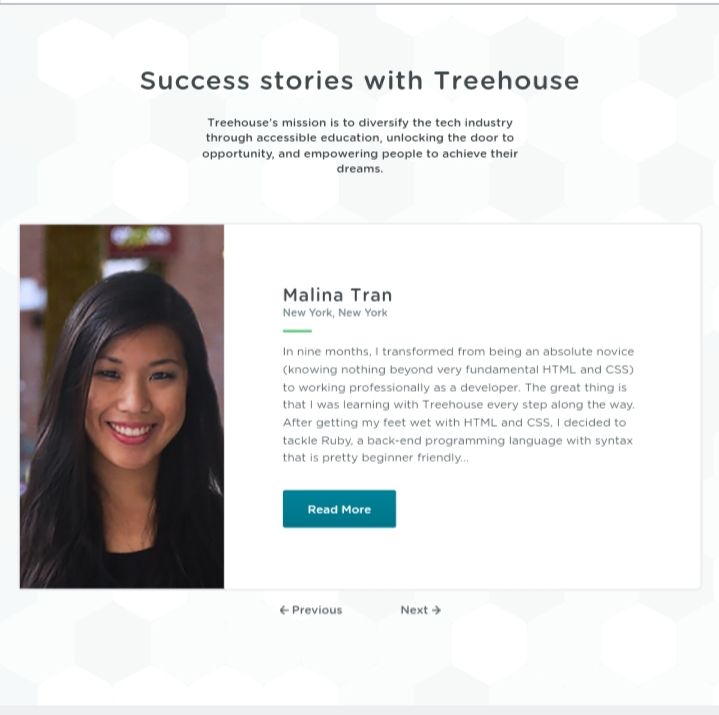 After only 3 months of learning, I landed a position as a developer. I am a front end engineer at a major processing company. I started off as a Jr. front end developer, but am now the main front end developer for the entire company after only one year. It's crazy to say but I never thought that this would have ever happened to me.

Chris Dabatos, Tustin, California
I started learning with free resources like freecodecamp and YouTube tutorials. I was learning a lot but I needed more structure. Then I found about Treehouse and that's when things really started to take off for me. Treehouse was the perfect place for me to gain the frame of reference I needed to structure my learning. The videos demystified so much and made everything seem a lot less intimidating. Treehouse also made it easy to keep track of what I was doing with its workspaces and tracks system.

Jeffrey McKim, United States
Well after studying with Treehouse for about a year and a half I was able to land my first coding job in March. It was a short term position for me but I definitely enjoyed the experience being in a full-time web developer role and I learned a great deal. Right now I am enjoying working freelance and seeking out my next opportunity in the coding industry.

Kalina Edwards, Dallas, Texas
Treehouse is a powerhouse of relevant up-to-date information. That is essential to someone like me. In a rapidly changing industry, I love having a resource that continuously educates me with what I need to know. I can confidently say that I wouldn't have my job or pass any of my recent Java exams without Treehouse.

Jacob Proffer, Marquette, Michigan
I thought the teachers did a great job of explaining everything in a way that was clear and fun. And learning by building example apps really helped me gain a practical understanding of Swift and app development.

Neil Sardesai, Austin, Texas
To summarize what Treehouse has done for me its helped me gain workplace standard knowledge at the same level – if not higher than – a college course or a degree, and for the small price of $25 a month. In total, I think I've spent less $300 with Treehouse and got a job in the career path I wanted over 12 months. What more is there to say? If you want to go into the web industry sign up.

Adam Duffield, South Yorkshire, United Kingdom
The Treehouse platform is a great value for the money. It provides the basic tools for success, but students have to put in the effort to learn to make the most of it. For me, being able to choose exactly what skills I wanted to work on and doing things at my own pace was key.

Justin LeFurjah, Bergen, Norway
Since joining Treehouse my progression has exploded. Treehouse provides you with everything you need to learn the skills you need whether it's front end development you're interested in or you want to go and learn how to create cool apps. I recently landed a job as a web developer at a digital agency.

Joe Consterdine West Yorkshire, United Kingdom
Pretty much the Treehouse videos I watched, explained things in such a way, that all the concepts I'd been trying to teach myself through various books, actually started to make sense. While watching the Treehouse videos, I was having little "Ahaaa, that makes sense!" moments. The videos are broken down into just the right amount to be able to absorb, without getting too frustrated.

Toby Powell, Bangkok, Thailand
Treehouse gave me enough skills to bring my idea to the world. Before I knew about Treehouse, I didn't know how to approach coding. The courses are so well structured that it is absolutely possible for everyone to learn to code, even if you have zero coding experience like I did. Today, I have confidence in my skills to build apps or find a remote project and travel the world, which is priceless!

Alexander Batalov, Yekaterinburg, Russia
Who's Team Treehouse Good For?
Team Treehouse is a great online school for anyone looking to learn programming and design online. The platform is especially perfect for:
Absolute beginners: Its self-paced and guided approach and instruction by experts makes it appealing for complete beginners without a tech background.
Intermediate Programmers: If you already have beginner tech skills and looking to take them to the next level, Treehouse also has some courses for intermediate coders and designers. You will also benefit from the conferences and talks with industry leaders.
Visual Learners: Since the platform is mainly video based, it's perfect for those who learn best by watching and listening and then reinforcing what they learn with quizzes and exercises.
Who's Treehouse Not For?
Advanced programmers might find most of the courses at Treehouse too slow paced.
Since this platform uses video courses as their primary training material, you might want to consider another platform if you prefer a text based or an interactive learning approach.
Alternatives to Team Treehouse
If you feel like Treehouse isn't the right platform for you, here are some alternatives to consider.
Final Verdict: Is Team Treehouse Worth It?
Whether you're looking to learn to code so you can land an entry level programming job or just want to learn as a hobby, Team Treehouse is an excellent place to start. It's accessibly priced, allows you to learn at your own pace, and will equip you with the tech skills you need to build things and get an entry level tech job.
It's also a great place to expand your skills if you're already a programmer or designer. The expert-led courses alone make Treehouse worthwhile. However, you might find it too slow paced if you're already an advanced coder.
Ultimately, the best way to find out if the platform suits you is to take advantage of their 7 day trial!
Mike is the creator of Go With Code and a coder at heart 🙂